Is my toddler's speech delayed?
This is one of the most frequently asked questions received by early intervention providers.
As with many skills and milestones, the age when children learn language and begin speaking can vary considerably from child to child. Knowing a bit about speech and language development among children, especially young children, can help parents figure out what to look for and when to seek help.
As a general guideline, speech and language experts recommend following the concept of "2 by 2." What that means is by 2 years old, we like to see these milestones met in order to provide a strong foundation for future language skills.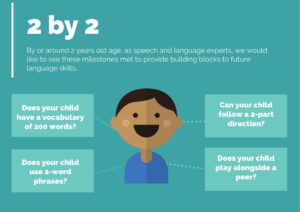 A more in-depth list of milestones for toddlers can be found on our developmental page. 
What are some ways you can help?
Read to your child. Talk about the pictures, be animated, and point to objects on the page.
Ask Questions. When your child is first developing receptive language, it's good to ask simple questions like, "Where's the dog?" As he ages, you can move onto more open-ended questions to develop expressive language skills.
TALK. Model speech by talking about the activities you're doing. The more they are exposed to correct modeling of language, the more likely they will be to copy it.
Seek Outside Help. The best way to understand your child's development is a conversation with professionals because of multiple factors.
As with all milestones, keep in mind that speech is not a race or a prize to be won.  Take the proper steps to help your child and seek input if needed. But remember to give your child and their speech development the time they need to grow.
If you are concerned about your child's speech and language development, contact us at [email protected] or make a parent referral to Babynet.